School and Daycare Physicals in Orlando and Ocoee, FL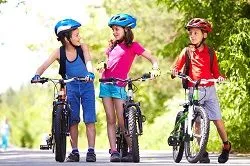 No matter whether your child is going into daycare or they are just starting school it's important that children of all ages get regular physical examinations. While your child will obviously come in routinely for immunizations and check-ups these routine visits do not take the place of a school or daycare physical. Here at Growing Together Pediatrics, we strive to provide your little one with the very best medical care in Orlando and Ocoee, FL. Back-to-school physical examinations are just one way to make sure that your child is ready to greet the new school year with a healthy body and mind.
While your to-do list before getting your child back to school or started in daycare may already be rather long, it's important that your child's physical exam is on that list, too. There are many reasons why this checkup is important for children of all ages. For one, a physical exam ensures that your child is up-to-date on all their immunizations to protect them from preventable but serious childhood diseases.
Making sure your child is immunized before the school year is important not just for protecting your child's health but other children with which your child has contact. We all know the kinds of germs that can easily spread from student to student in a daycare or classroom. Making sure your child is fully inoculated is vitally important for their health.
Another reason for an annual physical exam is to make sure that your child is healthy enough to participate in certain physical activities. If your little one is a budding athlete our pediatricians want to make sure that whether on or off the field they are healthy enough for their chosen sport in order to prevent unnecessary injuries and health complications. We can also provide your child with helpful tips to keep them injury free and healthy while enjoying their favorite sports. A physical exam will check the health of their heart, lungs, reflexes, spine and other areas of the body to make sure they are fully ready for physical activity.
If your child is just starting daycare you may be surprised to learn that the daycare facility may ask for a physical exam. This is important for several reasons. As we mentioned before it protects your child from potentially serious and life-threatening diseases. Furthermore, if we do detect a health problem such as asthma, many of these conditions require medication and special care. It will be important for your child's daycare to know about any medical conditions they may have and any medications they need to take on a regular basis.
Interested in School and Daycare Physicals from Growing Together Pediatrics?
Call our Orlando or Ocoee, FL office at (407) 770-1414 today!