February is NATIONAL CHILDREN'S DENTAL HEALTH MONTH!  Dental health is critically important to the overall well-being of your child.  Developing good oral hygiene habits early will prevent gum disease, cavities and tooth decay in the future.
YOUR BABY'S FIRST DENTAL VISIT
The American Academy of Pediatrics (AAP) recommends that your child sees a dentist within six months of their first tooth or by age 1. Growing Together Pediatrics can help you find a pediatric dentist when it's time to schedule your baby's first dental visit!
Here are a few questions to ask when scheduling the first visit:
Is your office accepting new patients?

Does your office take my child's insurance?

Is anyone on your staff able to speak my language and/or translate for me?

Is your office open evenings or weekends?
The first visit allows your child to meet the dentist in a relaxed, non-threatening way.  Some dentists ask you to sit in the dental chair with your child on your lap.  The dentist will check for tooth decay, inspect your child's bite and explore the gums and jaw.  It's usually a short, friendly visit but be sure to ask questions or discuss any developmental concerns.
YOUR CHILD'S ONGOING DENTAL CARE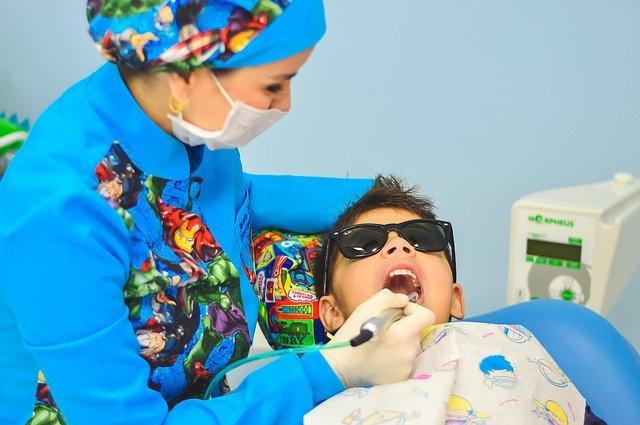 Growing Together Pediatrics and the American Academy of Pediatrics (AAP) recommend your child sees a dentist every 6 months.  These dental visits are just like your well-child visits to our office!  Regular visits allow the dentist to get to know your child's specific needs so they can provide the best care possible.
Expect the dentist to gently examine their teeth and gums or provide a cleaning if necessary.  Cavity prevention can include fluoride treatments or dental sealants, which protect the chewing surfaces of the back teeth.
X-rays can help the dentist find small areas of decay or cavities between teeth that may not be visible during the exam.  Dentists also use x-rays to determine if there is enough room in your child's mouth to fit all their incoming teeth or see if baby teeth are falling out fast enough to allow permanent teeth to come in correctly.  Once your child is older x-rays can reveal the development of wisdom teeth.
Most importantly, never use a visit to the dentist as a threat!  Stay positive about your child's dental visits!